Junior Research Fellow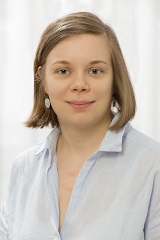 Research fields
- Ageing
- Elderly care
- Status of elderly in family

Contact
e-mail: gresits@demografia.hu
tel.: (06-1) 345-6945
Publications
Melegh, Attila - Gábriel, Dóra - Gresits, Gabiriella - Hámos, Dalma (2018): Abandoned Hungarian workers and the political economy of care work in Austria. Review of Sociology of the Hungarian Sociological Association 28(4), pp.61-88.
Gresits, Gabriella: Focus group fundamental research. In Veroszta Zs. (ed): Technical report. Growing Up in Hungary - Cohort '18 Hungarian birth cohort study. Prenatal research, preparational phase. Working Papers on Population, Family and Welfare, no 30.,  pp. 41-45.
Monostori Judit - Gresits Gabriella (2017): Perceived age of becoming old. Research Highlights no.33., Hungarian Demographic Research Institute.