Pregnancy in Hungary - Report on the first wave of the Cohort '18 - Growing up in Hungary
Abstract
The Cohort '18 – Growing Up In Hungary longitudinal research programme was launched back in 2017 by the Hungarian Demographic Research Institute of the Hungarian Central Statistical Office. This longitudinal research project aims to describe what it is like as a child to grow up in Hungary and what the influencing factors are. In this birth cohort study, the common starting cohort constituted those children due to be born in a single period (2018/19). The monitoring of their development started at the foetal age, during maternal pregnancy; the study envisages further waves, with follow-up investigations when the cohort babies are aged 6 months, 18 months and 3 years. On the one hand, the cohort study seeks to capture different aspects of development, such as physical, cognitive and emotional development, health, well-being, performance and mobility. On the other hand, it examines the factors that determine childhood growth, along with the relationships and interactions between them. These might include family and social environmental factors, social/origin differences, health status and psychological characteristics, as well as institutional provision and the employment status, lifestyle, expectations and plans of families that are raising children. The first study report of the Cohort '18 – Growing Up In Hungary introduces results from the first wave of the research.
Keywords: birth cohort, longitudinal, Hungary, pregnancy, growing up
Please cite the publication as follows:
Veroszta, Zsuzsanna - Boros, Julianna - Kapitány, Balázs - Kopcsó, Krisztina - Leitheiser, Fruzsina - Szabó, Laura - Spéder, Zsolt (2021). Pregnancy in Hungary. Report on the First Wave of the Cohort '18 - Growing Up In Hungary. Working Papers on Population, Family and Welfare, No. 39. Hungarian Demographic Research Institute, Budapest.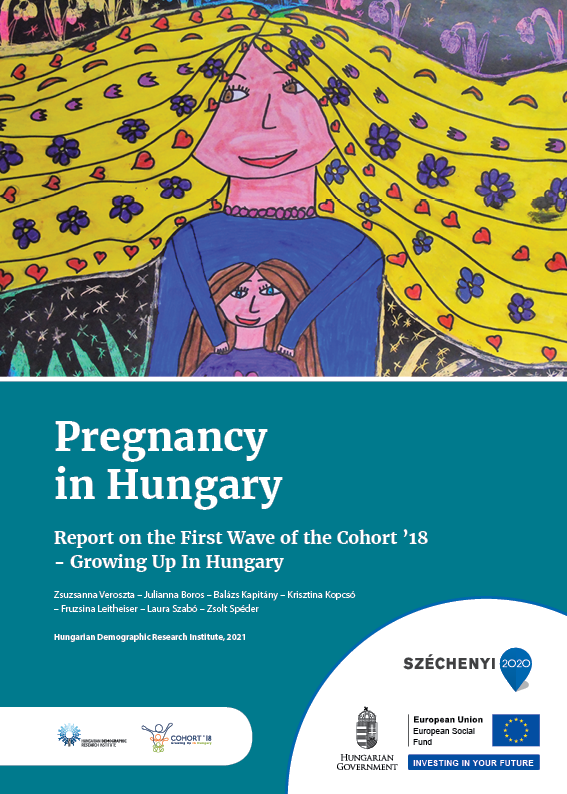 Additional Files